This is a virtual tool for doing the 3 part drill using Orton Gillingham's approach to reading instruction. This approach is based on the science of reading and is great for dyslexia remediation.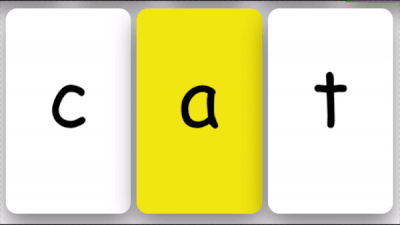 If you have any problems, questions, comments, concerns, or suggestions, please reach out to This email address is being protected from spambots. You need JavaScript enabled to view it. 
Updates:
I recently added kind of a large update that I have been working on over the summer. My goal is to have all the options visible and available versus having to open menus to make those changes. There are also some formatting changes. If your formatting is troublesome, try zooming your browser window in and out.
On Windows try [ctrl]+[-] or [ctrl]+[+]. On a Mac try [command]+[option]+[=] or [command]+[option]+[-].
Shareable Link! With this new feature, you can adjust your class settings like before, but now you can get a custom practice link to share or use in class. The practice link saves all your settings and is distraction free. If you make changes to red words or add/remove graphemes, just copy the new link address to share your new settings.
Features I am working on.
Morphology - You may have seen the grayed out button for this. I am putting together the 3 part drill tools for morphology. It is in the early stages still, but I do plan to have this done and ready before Christmas.

You can try parts of this now by going to The 3 Part Drill - Alpha Version hold [ctrl] & [alt] as you refresh to get the latest updates
Please email me and let me know how it looks for you and how it is working for you. This email address is being protected from spambots. You need JavaScript enabled to view it. 
Please know that it may be unstable at times as I am programming. You can always access the stable version here The 3 Part Drill - Stable Version

Sharing Links - I have been getting feedback that teachers are sharing this with students. I didn't think about that, but the problem is that the teacher's selected phonemes, morphemes, and red words aren't automatically shared. Each of your groups will generate a custom link to a practice page. The link will change and update every time you change your settings. For instance, if you add or remove red words, the link will change to be shared. The previous link will still work, but won't show any updated changes you made. The practice page will be a simpler version with just the drills with your custom group name, phonemes, morphemes, and red words. The page won't have all the menus and options and will have a much simpler look and easier to navigate for your students. I am still in the beginning stages of programming this, but I do hope to have this done by the New Year. Done 🙂
If you are enjoying this tool and would like to contribute to keeping this tool free, here are some choices.
Consider sending a thank you email. I truly do enjoy these.
Buy me a cup of coffee (through Paypal).